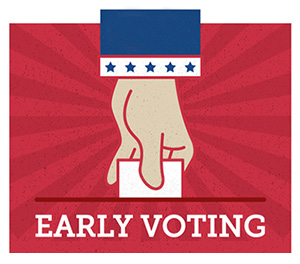 In person early voting is available multiple days for the November 3rd General Election at the John James Memorial Hall, 42 Main St. The dates and hours will be:
Saturday, Oct. 17th       2-4pm
Sunday, Oct. 18th           2-4pm
Monday, Oct. 19th         9-3 and 6-8
Saturday, Oct. 24th       2-4pm
Sunday, Oct. 25th           2-4pm
Monday, Oct. 26th         9-3 and 6-8
Residents will be asked to wear masks, use hand sanitizer and maintain social distancing in the town hall while they go about the process of casting their votes.
We recognize that people feel strongly about their candidates and ballot questions, but the polling place is a protected place for all voters. No hats, pins, shirts, stickers, sign or any other item endorsing a candidate or question may be worn or visibly held in a polling place or within 150' of the polling location. If you are seen with any of these items, you will be asked to remove them or turn your shirt inside out before you can vote.
In addition to in person early voting, Saturday October 24th is the last day to register to vote for the November 3rd General Election, between 2-4pm and 6-8pm. Assistant Town Clerk Gina Papineau will be available to register new voters that day.
Please contact Town Clerk Kristen Estelle with any questions or concerns: 413-268-8236 x107, clerk@goshen-ma.us.