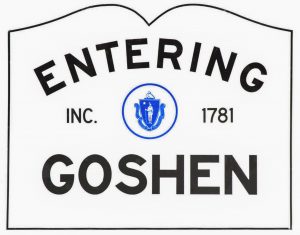 Goshen is located in the eastern foothills of the Berkshire Mountains in Western Massachusetts approximately three hours west of Boston and two hours east of Albany, NY.
Goshen was a part of the town of Chesterfield until it became a town in its own right by an act of incorporation passed May 14, 1781.
The town consists of 17.7 square miles of rolling hills, open fields and dense forest with two lakes and many ponds.  According to the most recent census, this rural community is made up of 1,054 full time residents.  During the summer months, the population substantially increases as the seasonal residents return to the 200+ seasonal homes situated around the town's lakes and ponds.
The 1,800-acre Daughters of the American Revolution (D.A.R.) State Forest provides campgrounds and day facilities.  Camp Howe (4-H) and Camp Holy Cross are private youth camps that bring in approximately 83,000 memory-making visitors per year.