Proudly Serving the Hilltowns of Western Mass Since 1948
---
Department Officers:
Susan Labrie, Chief
Kim Dresser, Deputy Chief, EMS Coordinator
Bob Labrie, Captain, Technology Officer
Monica Neveu, Captain, Training Officer
Jonathan Schwaiger, Lieutenant, EMS Supervisor
---
Overview

The Goshen Fire Department is committed to protecting the people, property, and environment within our community.
We will be responsive to the needs of our citizens and visitors by providing rapid, professional, humanitarian services essential to the health, safety, and well-being of the community.
We will accomplish our mission through fire prevention, fire safety awareness education, fire suppression, emergency medical services, and other related emergency and non-emergency activities. We will actively participate in our community, serve as role models, and strive to effectively and efficiently utilize all of the necessary resources at our command.
From the Chief
Several years ago, the Goshen Fire Department began using the system developed for the Franklin County Fire Chief's Association (FCFCA) to electronically issue and track open burning permits. A similar system has also been developed for towns in Berkshire County to our west. To date, Goshen Williamsburg, and Belchertown are the only Hampshire county towns to utilize the program. This electronic method of issuing these permits simplifies what can be a cumbersome and time-consuming manual process. 
Goshen residents who want to burn but do not want to use the electronic system must call the Goshen Fire Department business line (413-268-7161) to schedule an inspection and receive a written permit.  Inspections of your brush pile will only be completed on Friday mornings so please plan accordingly.  People who utilize the electronic system do not have to go through this inspection process.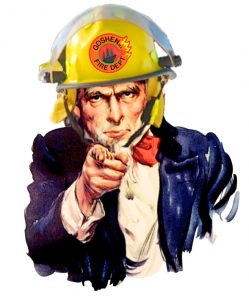 The online permit process in Goshen will again be managed through our website.  Simply go to our home page and click on the 'Automated Burning Process' icon. From there, you will be taken to the new Hampshire County site where you will be asked to provide some basic information that includes your name, address, telephone number and location of the brush pile you want to burn. The system will be active between January 15th and May 1st and 'open' for use between 8:30AM and 1:00PM each day burning is allowed. The way the system is set up, no permits will be issued before or after that 4 1/2 hour window. A permit needs to be requested each day you wish to burn. On days where open burning is not being permitted due to weather conditions, the system will be disabled. 
All open burning fires need to be started by 1PM and fully extinguished by 4PM. Failure to follow these rules can result in the revocation of your permit for the remainder of the open burning season. The best news of all is that there is no fee for this permit. 
Susan Labrie
Chief, Goshen Fire Department